Pumpkin Chocolate Chip Cookie Bars
(gluten free, dairy free)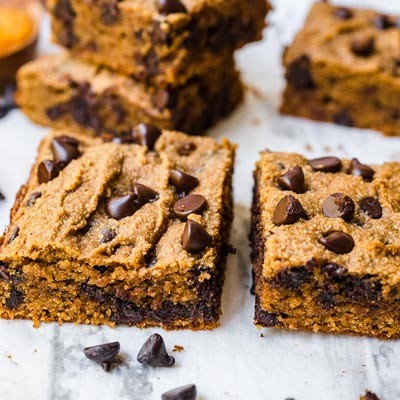 Prep time: 10 minutes
Cook time: 25 minutes
Makes: 9 bars
Ingredients
1 ½ cup Field Day almond flour
½ tsp Field Day baking soda
1 tsp cinnamon
½ tsp ginger
¼ tsp nutmeg
Pinch of cloves
⅛ tsp salt
2 large eggs
¼ cup Field Day melted coconut oil
⅓ cup Field Day pumpkin puree
½ cup Field Day coconut sugar
¼ cup Field Day almond butter
1 tsp Field Day vanilla extract
¾ cup Field Day semisweet chocolate chips + more for topping 
Directions
Preheat oven to 350F.
In a mixing bowl, whisk together all dry ingredients (almond flour, baking soda, cinnamon, ginger, nutmeg, cloves and salt).

In a separate large bowl, whisk together eggs coconut oil, pumpkin, coconut sugar, almond butter and vanilla extract until smooth. Add in the dry ingredients and stir well until combined. Stir in the chocolate chips.

Transfer the batter to an 8x8 baking dish lined with parchment paper. Top with more chocolate chips. 

Bake for 25 minutes or until a toothpick inserted into the center comes out clean. Remove from oven and allow to cool for 15-20 minutes before slicing.