Spider Web Taco Layer Dip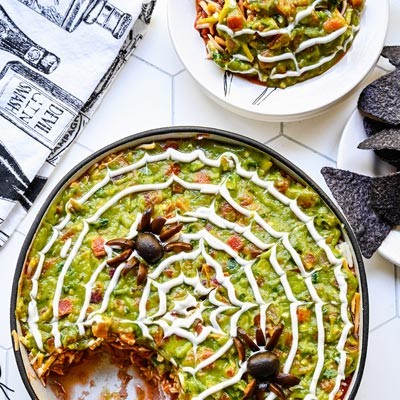 Serves: 8-10
Prep time: 5 minutes
Cook time: n/a

Ingredients
1 can Field Day Organic Refried Beans
1 cup sour cream + more for topping
1 can Field Day Organic Pitted Black Olives, diced + more for making spiders
1 jar Field Dary Organic Tomato Cilantro Salsa
1 ½ cups shredded taco-style cheese
1 cup guacamole
For serving: Field Day Organic Blue Corn Tortilla Chips
Directions
Assemble dip in a bowl with a layer of refried beans on the bottom, followed by sour cream, black olives, salsa, cheese and guacamole. Spread guacamole into an even layer.
Pipe sour cream in concentric circles atop the guacamole, then use a toothpick to spread the sour cream from the inner circle to the outer circle, creating a spider web pattern.
To assemble the spiders, slice an olive in half lengthwise. Use one half as the "body", then slice the remaining half into 6-8 thin legs. Assemble on top of the web.
Serve with tortilla chips.