Whole Wheat Pumpkin Bundt Cake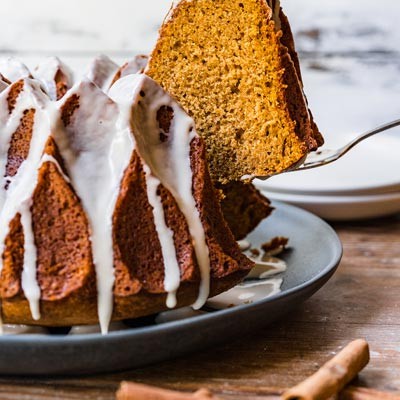 Prep time: 10 minutes
Cook time: 25 minutes
Makes: 9 bars
Ingredients
2 ½ cups Field Day Whole Wheat Flour
2 tsp Field Day baking powder
½ tsp Field Day baking soda 
1 ½ tsp cinnamon
½ tsp ginger
¼ tsp nutmeg 
Pinch cloves
¼ tsp salt
3 large eggs
15 oz can Field Day pumpkin puree 
1 tsp Field Day vanilla extract
¾ cup vegetable oil
½ cup greek yogurt
1 cup Field Day brown sugar
¾ cup Field Day granulated sugar
Maple glaze:
1 ½ cups Field Day powdered sugar
2 tbsp Field Day maple syrup
1-2 tbsp milk
Directions
Preheat oven to 350F. 
In a medium mixing bowl, whisk or stir together all dry ingredients (flour, baking powder, baking soda and spices). 
In a separate large bowl, whisk together eggs, pumpkin, vanilla, vegetable oil, yogurt, and both sugars until completely smooth. Add in dry ingredients and mix until just combined. 
Grease a bundt cake pan well. Pour batter into the pan and bake for 50-55 minutes, until a toothpick inserted in the center comes out clean. 
Let cool for 10 minutes before removing from bundt cake pan, then let cool completely before topping with glaze. 
To make glaze, whisk together all ingredients until smooth. If it's too thin, add more powdered sugar. If too thick, add more milk (should be a pourable consistency). 
Top the Bundt cake with glaze and serve.